WHMIS Training
Stay compliant and current with our 2023 WHMIS certification program.
WHMIS 2015 (GHS): Accepted in all provinces and meets all regulatory requirements.
Our Course
We believe in quality over quantity, less really is more.
Our focus is singular, yet comprehensive – we offer a single WHMIS course that covers all the essential elements you need to know in less than 30 minutes. This streamlined approach ensures that every aspect of WHMIS training is covered thoroughly, without overwhelming you with unnecessary information.
\Learnworlds\Codeneurons\Pages\ZoneRenderers\CourseCards
Course Eligibility
Who can benefit from this training?
New workers who require their WHMIS certificate before starting a job.

Current employees instructed by their employers to obtain WHMIS certification.

Individuals seeking to enhance their WHMIS safety knowledge and skills.
Self-employed workers and small teams in need of WHMIS certification.

Employers aiming to provide fast and cost-effective WHMIS training to their workforce.

Employment agencies requiring rapid WHMIS training for their placements.
Digital and Printable Certification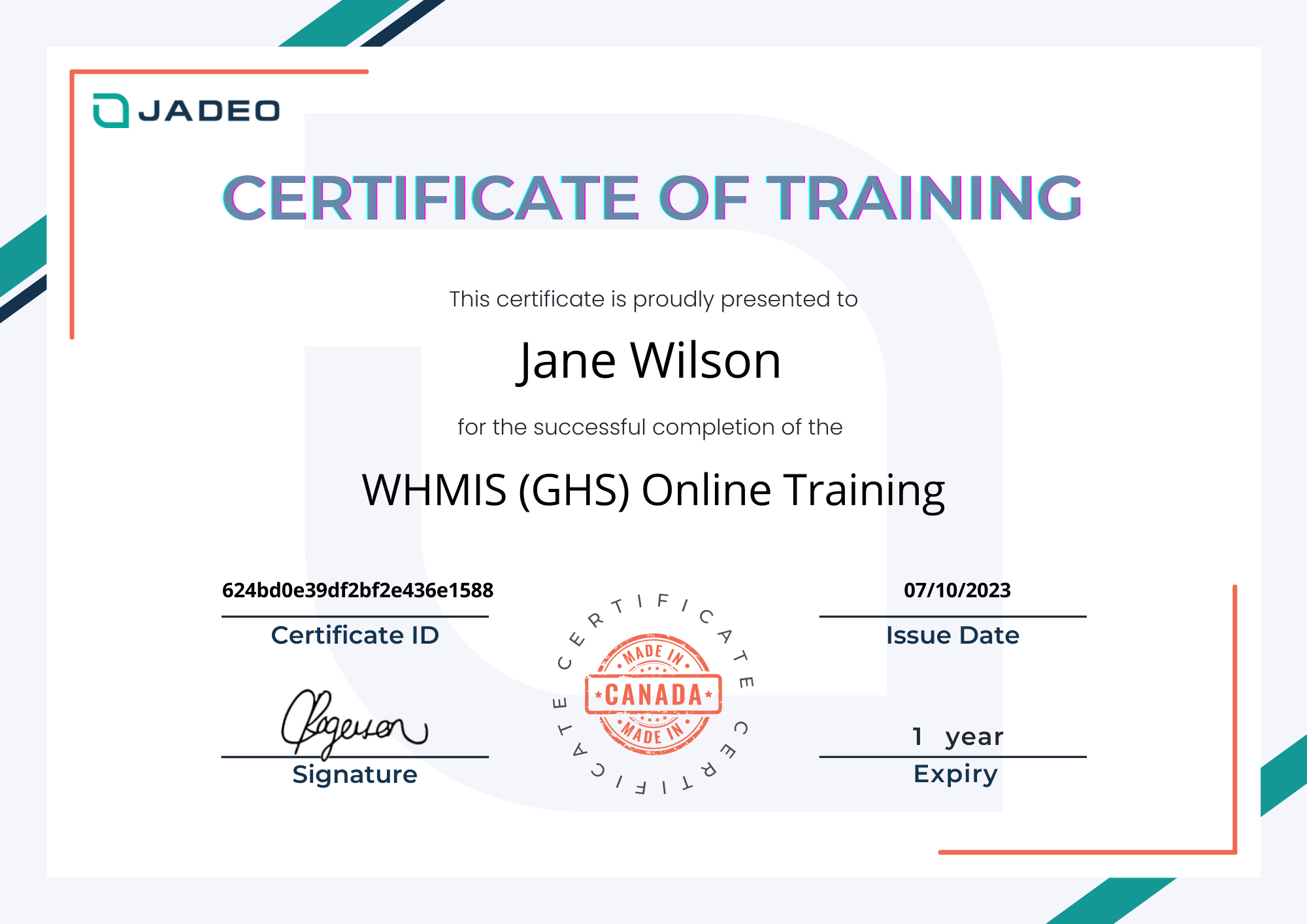 Wall Certificate

Our wall certificate is a professionally designed document that can be proudly displayed in your workplace, showcasing your commitment to safety and compliance. It serves as a visual testament to your dedication to maintaining a safe work environment.

Whether you're on the job or attending off-site training sessions, having a digital certificate ensures that you have proof of your WHMIS training readily available.
"Tell me and I forget, teach me and I may remember, involve me and I learn."
— Benjamin Franklin
Unforgettable Learning Experiences
Reimagine Learning with Video
Navigate with Ease
Our learning course feature intuitive navigation that ensures a seamless learning experience. Effortlessly explore modules, access resources, and track your progress through user-friendly menus, making your learning journey a breeze.
Transcription for Accessibility
We prioritize inclusivity by offering transcriptions for our learning course. Read along with the audio or review text-based transcripts for enhanced understanding and accessibility. Everyone can engage with the content, regardless of their learning preferences or abilities.
Interactive Learning at Its Best
Dive into our interactive learning course. Engage with dynamic videos and immersive quizzes that reinforce your understanding and application of key concepts. Our interactive elements make learning enjoyable, effective, and enhance your knowledge retention.
Interactive Learning Community
We foster a collaborative learning environment with the ability to engage in meaningful discussions with fellow learners and our knowledgeable admins. Within each learning unit, our platform enables you to ask questions, share insights, and exchange valuable perspectives.
Flexible Pathways to Success
Our learning platform offers flexible pathways to accommodate your unique learning style. Whether you prefer a structured approach or the freedom to explore at your own pace, our platform allows you to customize your learning journey. Achieve success on your terms.
Unlimited Examination Attempts
We understand that everyone learns at their own pace, and that's why we provide you with the flexibility to take examinations multiple times until you feel confident in your understanding of the course material.
No need to worry about time constraints or pressure.
Our Free E-booklet
Discover intriguing insights about WHMIS and cannabis while gaining a deeper understanding of the significance of workplace safety in today's ever-evolving economy.
Our Mission: Empower Safer Workplaces through Comprehensive Online Education
Our online workplace safety learning platform is about empowering individuals and organizations with the knowledge and skills they need to create safer work environments. We are committed to delivering comprehensive and accessible online courses that address key safety principles, regulations, and best practices.
Frequently Asked Questions
WHMIS stands for the Workplace Hazardous Materials Information System, providing health and safety information on hazardous products used in Canadian workplaces.
WHMIS has embraced the globally recognized hazard communication system called GHS, which stands for the Globally Harmonized System of Classification and Labelling of Chemicals. Embracing GHS offers numerous advantages, such as:
Enhanced hazard classification criteria that provide a more comprehensive assessment of the severity of hazards.
Introduction of new hazard classes to encompass a wider range of potential risks.
Consistent alignment of physical hazard criteria with the regulations for the Transport of Dangerous Goods (TDG).
Implementation of standardized language for hazard and precautionary statements.
Adoption of a standardized SDS (Safety Data Sheet) format and more comprehensive requirements.
Is WHMIS training mandatory? Who should receive WHMIS education and training?
All workers who handle or may be exposed to hazardous products in Canadian workplaces must receive WHMIS education and training. It is crucial that workers understand the associated product hazards and can work safely with such products.
For instance, education and training should be extended to the following categories of workers:


Those who may encounter hazardous products during their work activities, including regular use, maintenance tasks, or emergency situations.
Individuals who use, store, handle, or dispose of hazardous products.
Supervisors or managers responsible for overseeing workers who might face exposure or engage in the use, storage, handling, or disposal of hazardous products.
Personnel involved in emergency response procedures.
What does successful education / training look like?
Workers should understand product hazards, know how to protect themselves, respond to emergencies, and identify further information sources for hazardous products.
Workers must possess the knowledge to address the following inquiries concerning each hazardous product they handle:
What are the potential hazards associated with the product?
How can I safeguard myself against these hazards?
What steps should I take in the event of an emergency?
Where can I access additional information for further clarification?
Sign Up to Our Newsletter and Get 10% Off Your 1st Course
Gain access to expert articles, practical tips, and regulatory updates that can enhance your understanding of workplace safety and help you implement effective safety measures.

Whether you're an employer, safety professional, or an employee seeking to prioritize safety, our newsletter is a valuable resource that empowers you with the knowledge to create a safer work environment.